Jul 30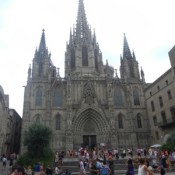 Today marks our third day in Barcelona, Spain. We woke up earlier today on account of the immense construction project going on directly behind our building. Unlike the U.S., construction here starts at 8am and ends at 7pm. Let´s just say we would not be happy if construction started at 5am. After a walk through the Mercat de la Boquería for breakfast, we headed out to a Lavandería, about 10 minutes away to get our laundry done. We had hoped it was a "do-it-yourself" kind of place, but it turned out to be more of a dry-cleaners. The lady was very nice and took our dirty clothes, telling us in spanish to return at 6 today for them. At least, that's what we think she said…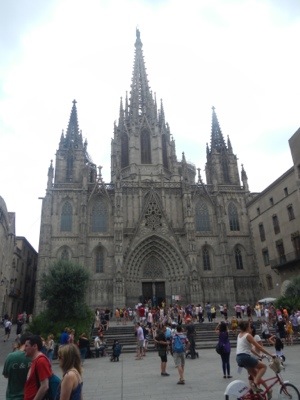 Once we were relieved of our dirty clothes, we started to walk to the new Apple store in Barcelona to purchase an ipad for me to do blogging so that Ryder can work from his computer when we have down time. On the way to the store, we ran across the Cathedral of Barcelona or Cathedral of Saint Eulalia who is actually entombed below the alter. The cathedral was absolutely breathtaking, intricate, and opulent.
The Cathedral was built on the original site of a 4th Century small church of the old Roman colony Mons Taber. It was destoryed by Almanzor in 985AD. The cathedral was rebuilt in the Romanesque style under King James II of Aragoon in 1298. The cathedral has 26 chapels, a sacrasty, crypte, and a cloister. Throughout the naive can be found groin vaults which were invented by the Romans and became highly influential during the Middle Ages.
The Saint entombed in the cathedral, St. Eulalia, was born around 290 AD during the time of persecutions of christians. Though just 14, Eulalia proclaimed her devout belief in Christ, in public. She was put to torture with Saint Julia and burnt at the stake in Merida. She is now celebrated as Saint Eulalia of Barcelona on February 12th.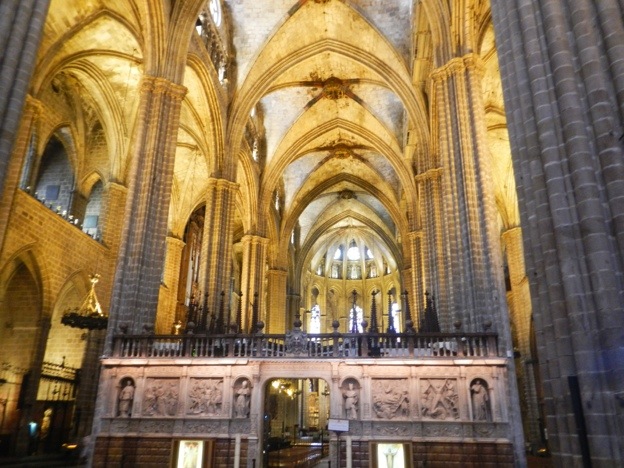 Lucky for us, we arrived in the church just as they were opening it up to the public so we were able to make our way to the roof without having to wait in any lines. The view of the city was spectacular. I loved being up among the gargoyles and stained glass windows!
After our time at the cathedral, we headed off to the Apple store only to have ALL of our cards declined when attempting to purchase an iPad for me!!! Ryder attempted to call one company and they put him through the run-around claiming his account is "under investigation," but not explaining what exactly that means. After trying four or five times, we had to leave to go back to the hostel to charge Ryder's phone so that it wasn't dead when the credit card company tried to call him back. After waiting for the phone to charge, we headed back to the laundry to get our clothes. They were ready for us all nice and folded and smelling so fresh! I hugged the bag of laundry with a big "Gracias" to the woman who worked there. She smiled and laughed at how silly I was.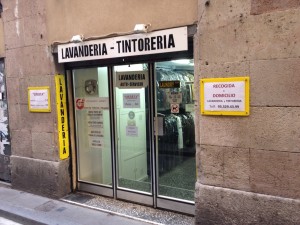 We spoke with all of our credit card companies to clear up any misunderstandings and were told it was the system at the new Apple store that was causing the problems. Apparently, it was reading all of our cards as fakes which flagged an issue with our companies. We decided to try another electronics store across the street from Apple called FNAC. There we were able to purchase the iPad and a keyboard to go with it!
iPad and keyboard in hand, we strolled back down the La Rambla and stopped for dinner at a small restaurant for some real Spanish Tapas. We ate, drank, and watched some of the olympics on the spanish network. Now we are back and winding down for the night. Tomorrow we plan to visit the Sagrada Familia 🙂
Read More