Aug 31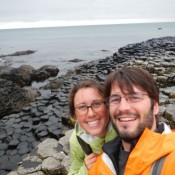 Our alarm blared us awake at 9am this morning. We jumped up, packed up, and took our bags down to the front desk for the hotel to hold for us while we took the train to the Giants Causway! We bought a quick breakfast/lunch at the station and boarded a train for the nearest town to the Giants Causway, 1 hr and 15 minutes away from Belfast. Once we reached our destination, we purchased two round trip bus tickets to the Causway at £11.80 total. We passed through a few small towns before being dropped off at the entrance. We skirted the vistors center to avoid paying £8.50 per person entrance fee, and hiked down the road and a few stairs into the Giants Causway.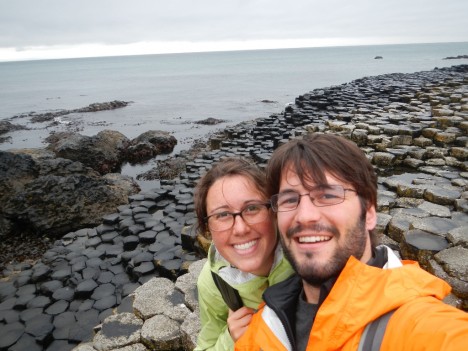 The area was absolutely breathtaking. We were reminded briefly of the cliffs along the California coast back home. The strange rock formations that make up the Giants Causway jut out from the land straight into the sea. This natural wonder is made up of interlocking basalt columns, which look like long hexagonal shaped stepping stones, formed from ancient volcanic activity in the area. We climbed around the rocks taking lots of photos and enjoying the scenery. It rained a bit while we were there, making the rocks very slippery and the climbing slow going. We walked through the Giant's Gate, and took a long trail up to the Organ. Both rock formations were spectacular. We ended the tour, taking the upper half of the trail around the rim face to get a birds-eye view of the formations.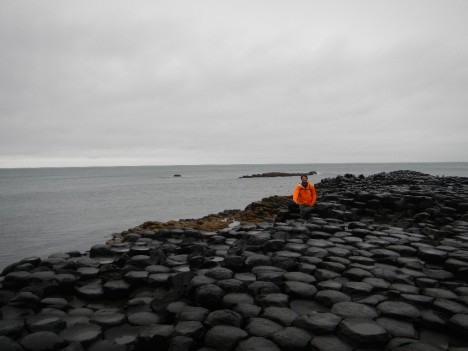 One bus ride and one train ride later and we were back in Belfast. We hustled back to the hotel, picked up our luggage, stopped at a Subway (We know, we know, terrible) for dinner, and hurried back to the train station to catch the train to Dublin. We made it in time and settled into first class! Yay! The ride was only  2 hours and gave us time to catch up on journaling and reading. We made it to Dublin and checked into our hotel for the night. We are meeting Ryder's friend's parents here who are seeing the Navy vs. Notre Dame game tomorrow!
Read More