Sep 24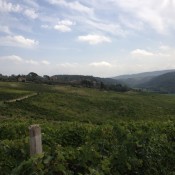 So yesterday was Sunday and it was a really boring day. We walked around the streets of Florence for awhile looking for a nice cafe to sit at and write in our journals while drinking cappuccinos. The place we wanted to go was unfortunately closed (big surprise, it being Sunday and all). We wandered around our area then down to the Ponte Vecchio and over to the Duomo. The cafes near the tourist spots were crowded and expensive. We stopped at one spot for sandwiches and water then continued searching. By 4pm we gave up and headed back to the apartment to write. Well, at least we got some walking in…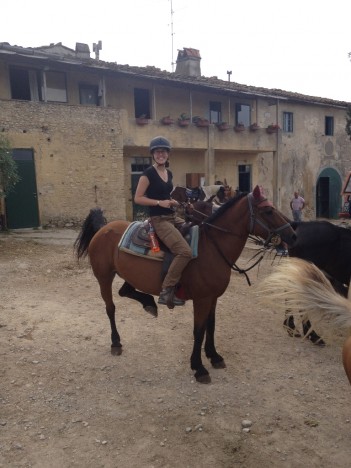 Today ROCKED! Ryder surprised me with plans to go horseback riding in Tuscany through vineyards and olive groves as an early one year anniversary present!! We got up early and walked down to one of the piazza's to get picked up for the tour. Our guide, Jacapo, was super friendly and talkative. He drove 8 of us in a van out into the country. We switched vans and continued on to the horse stables. The ride was a bit crazy and the road really curvy and rutty.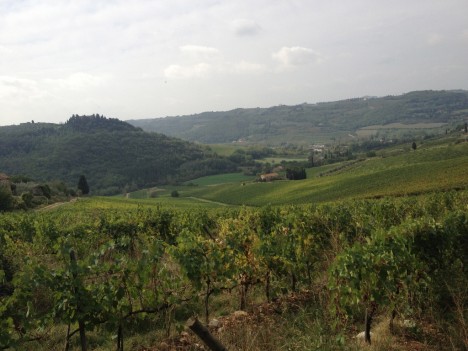 We burst out of the shaded, walled city scape into breathtaking Tuscany with rolling hills and valleys full of vineyards, orchards, and dotted with ancient stone villas. We stopped at the stables, looking out over acres and acres of vineyards, orchards, and forest. We met the other people in our tour – there was a couple from London who had come over just for the weekend, another couple from D.C. who had been traveling through Italy for 2 weeks, a gal from Florida who had been traveling for a month, and another gal from New York who was also visiting for 2 weeks! Everyone was super friendly and we all hit it off splendidly.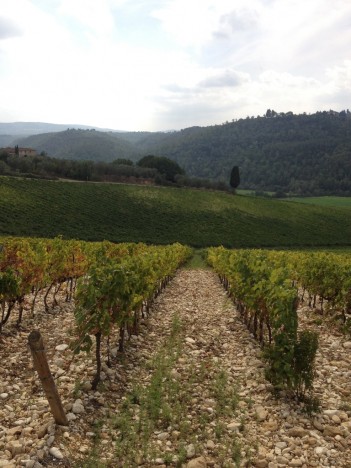 We were fitted with helmets and then introduced to our horses. Ryder got on the first horse named Naomi who lead the pack of tourists, next were the couple from London, then came me on Danny. The gal who set me up on my horse said, "If he stops, give him a hard kick." Well, lucky me, I got the MOST lazy horse of the group. At every single hill, Mr. Danny decided to come to a dead stop and eat some grass or stare lazily ahead. All of my kicking and talking to him hardly made a dent! He would only move when the tour guide at the back of the line shouted, "Danny! Vai!" and the occasional, "Danny! Mamma mia, impossibile!" Silly horse. Well, he was very friendly and easy otherwise. We had such a grand time climbing up and down the hills along side the grape vines.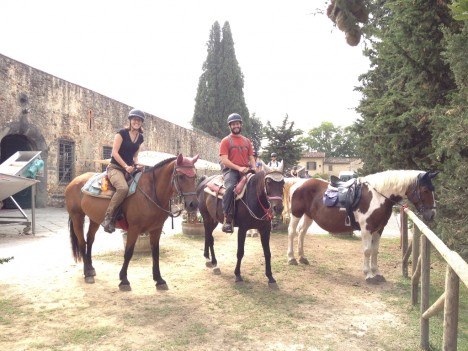 We finished the horse section of the tour at the Villa le Corti where we were served a three course Italian meal complete with two glasses of wine to taste. We sat with Lisa from New York, Daniela from Florida, and our tour guide Jacapo. The food was as excellent as the company and we all shared a bottle of our favorite wine. After the meal, we went on a tour of the wine production facility.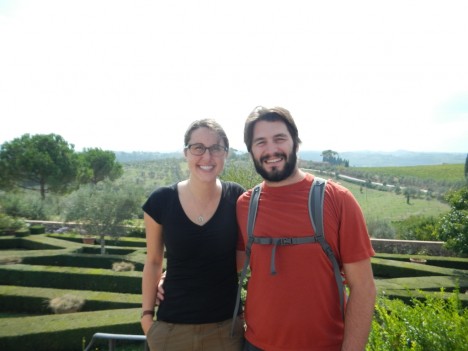 This winery is famous for its Chianti Classico, a type of Tuscan wine that can only be considered true Chianti if it is grown in this specific area of Tuscany; just like Champagne in France. The Chianti Classico is a blend of 85% Sauvignon and 15% Merlot grown from 49 hectares of vineyards. It is fermented and aged in the seventeenth century cellars located in the large rooms built beneath the villa garden. The house blend of the Chianti Classico is aged in large concrete vats, much to our surprise. The "good stuff" is aged in French and American oak.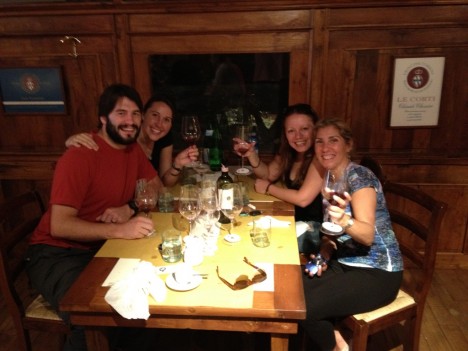 The olive oil mill is also located below the gardens. We were able to get a tour of these facilities as well. The Chianti Classico DOP Extra Virgin olive oil is made from hand-picked olives grown from 13,000 trees. The olives are pressed within twelve hours of harvest and the olive oil is certified organic. They had only two jars left over from the 2011 harvest and are geared up to press the 2012 harvest beginning next month.
After the tour we were able to purchase a bottle of wine and then were taken back to Florence. The tour was really fantastic and lots of fun! Later in the evening, Lisa and Daniela came by for some pasta and salad dinner! We stayed up talking until midnight, drinking wine, and having such a fun time! We hope to have more adventures with them in the next few days.
Read More