Aug 07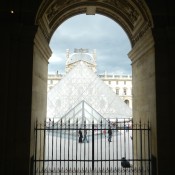 So we didn't write a post for yesterday, I'll do a quick re-cap. Yesterday we planned a lazy day of wandering the Place de Concorde, where the Luxor Obelisk stands, and the Tuileries Garden between the Place de Concorde and the Louvre.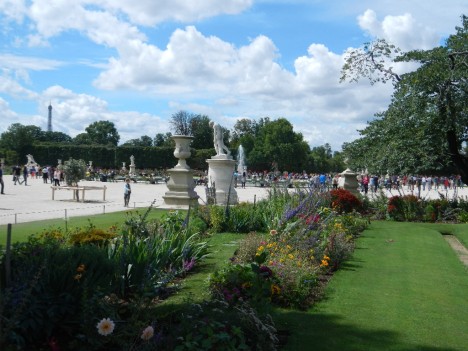 After some time at the Tuileries we ended up at the Louvre to take some photos of the outside – we planned and still plan to visit Wednesday. Two French ladies came up to me as we were taking photos and asked me if I wanted to see the Louvre. I hesitantly said yes and one of the gals handed me two tickets to the Louvre! I said, "Really? How much?" and she said "Free" and walked away. Wow, so we got a free pass into the Louvre.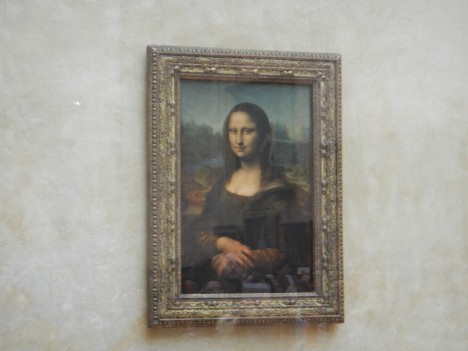 We wandered the Egyptian section for about an hour then headed off to see the Winged Victory of Samothrace and the Mona Lisa! Both were absolutely breathtaking to behold in person!!! Unfortunately we were only able to get within 5 feet of the Mona Lisa – stupid security tape. I was hoping to drool over it… We were able to see some other Leonardo Da Vinci pieces up close. I spent some time analyzing the brush strokes, poor Ryder.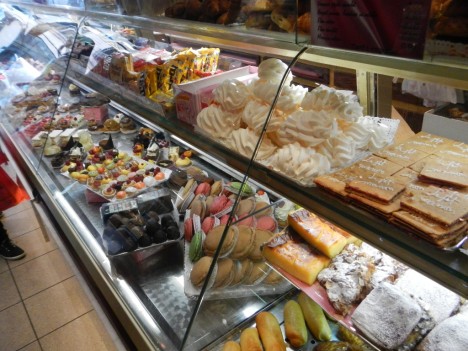 After the Louvre we headed out to a cafe for coffee and a pastry each. Apparently we were in the ritzy part of Paris and this wasthe ONE time we didn't ask for the price (ok seriously, two cappuccinos and two eclairs anywhere else would total 10 euros MAX). We seriously enjoyed the treats, then got the bill… $42.00 total!! We were FLOORED. New rule, ALWAYS ask to see a menue or for the price.
Ok, back to the present…
We had a late start this morning because we watched Blade Runner way too late last night and boy did we pay for it! After breakfast we hiked up to the metro stop and caught the train to another stop where we transferred to another train straight for the Palace of Versailles. We bought tickets for Versailles yesterday at a FNAC store (France version of Best Buy) and bought our train tickets on the way home last night so we were all set to go (I know, I know, planning ahead… you didn't think we had it in us!). We arrived at Versailles at around noon.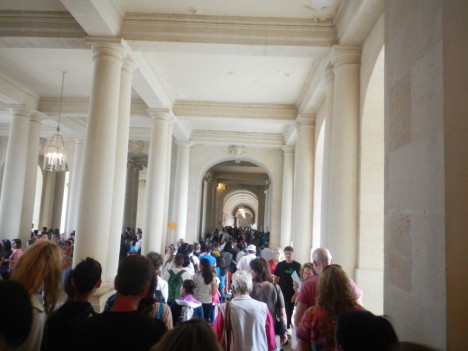 First impression of Versailles, WAY too many people!! Just walking down the road from the station to the gates of the palace was a nightmare. Remember what I said about paying for it… well the plan was to arrive before it opened today and we really should have stuck to the plan! The line just to enter the Palace snaked all the way around the entrance courtyard and took us two hours to get through (worse than Disneyland, no awesome ride at the end). That and the wait for me (Amanda, the girl) to use the bathroom, forget it! Two stalls and a spot in line 15 deep. Let's just say that I made it a point to get in line whenever I saw a bathroom, because odds were I would have to go by the time I got through the line!!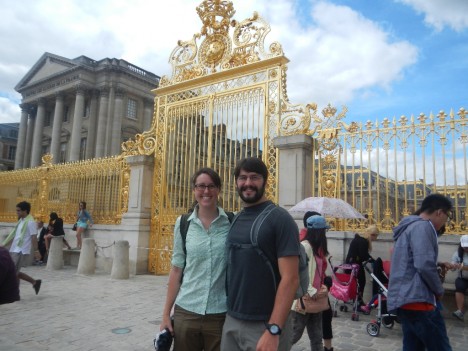 Ok, ok, second impression of Versailles, opulent and gorgeous!! Everywhere we looked outside was huge windows, gold filigree, intricate statutes, and obvious wealth. Everywhere we looked inside was masterpiece paintings, gold filigree, four different kinds of marble, crystal, did I mention gold filigree? It was quite a site to behold! I spent most of the time walking through the gigantic rooms imagining myself in a ball gown, huge white wig, and dainty healed shoes. Ryder and I were both stuck dumb by the sheer opulence of the place and the grandeur of the French royalty during that time period. No wonder the 99% revolted … 😉 We did the audio tour of the palace which took about 2 hours squeezing around people to take a look, then we headed out to the gardens.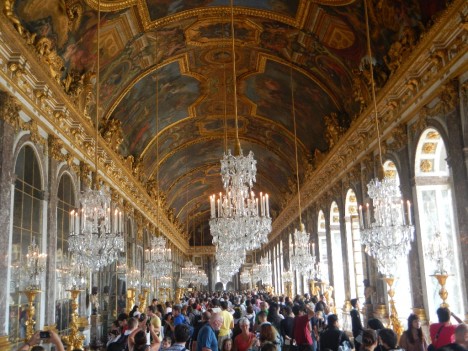 The gardens of Versailles are breathtaking!! It's hard to imagine seeing something like that out your bedroom window everyday. We walked 4 miles around the gardens, looking at fountains, sculptures, lots of hedges in geometric shapes, and avoiding the masses. It was fascinating to view the landscape architecture prominent in this period. We enjoyed a nutella and banana crêpe each while strolling around. We finished our tour of the gardens at Marie Antoinette's Petit Trianon where the poor thing could escape from the rough responsibilities of court life, puah!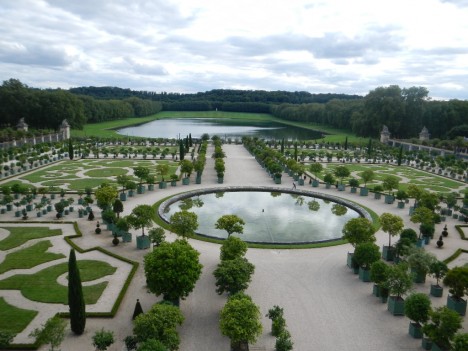 This chàteau for the Queen was "smaller" than Versailles but still just as opulent. We breezed through the rooms then decided it was time to head back to our flat. By this time it was 6:30pm and we were both starved. Walking back to the station, we stopped to do some shopping and Ryder found a McDonalds. We decided out of perverse curiosity to try McNasty in France thinking maybe it will be better? Well, it was an interesting experience that neither of us will repeat again. Ryder ordered a Royal burger with cheese, turned out to be literally a bun, meat, and cheese. I ordered, what I thought was, a chicken salad. Turned out to be nuggets of breaded and fried cheese instead of breaded and fried chicken. All in all, we give the fries a pass. The train ride home went smooth and we got back just in time to catch the Olympic semi-finals for the men's 800m. Ryder's track teammate from Cabrillo High School, Duane Soloman, is representing the USA in this race along with another teammate Nick Symmonds… Spoiler Alert… They both qualify for the final race! Don't forget to watch and support team USA!!!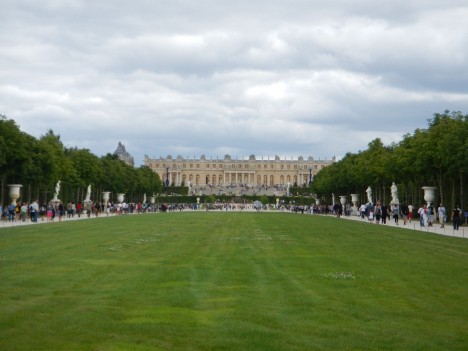 Read More