Sep 16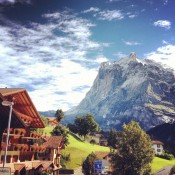 Looks like we are about three days behind, sorry bout that folks! Well quick update on Ryder: He is doing better, still got the cough, but we are taking it easy and he is ready to start touring again once we get to Florence! Yippeee!! Ok back to where we left off: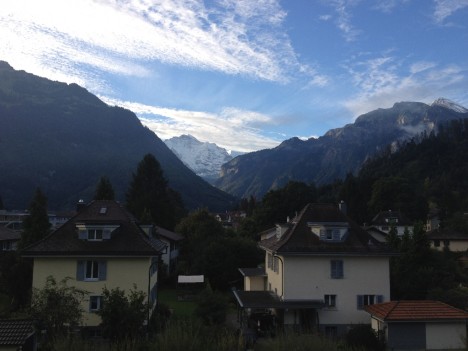 Friday, Sept 14: We woke up to clear skys in Interlaken!! For the first time we were able to see the peaks of the mountains surrounding this gorgeous valley. The photos really don't do the place justice! We woke up early enough to see the sun rise over the mountains and set to packing up our luggage. We grabbed a quick breakfast, locked our luggage in a cubby at the hostel, then headed out to the train station for Grindelwald. Grindelwald is a small village further into the Alps and is the gateway to the highest point in Europe, Jungfrau.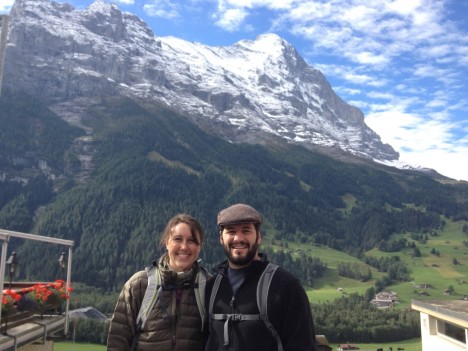 The train ride only took about thirty minutes, passing through canyons, along rivers, and beside the gigantic Alps. Really, the views were breathtaking. We stepped off the train in Grindelwald and our jaws dropped. The mountains surrounding the village were so large and so far above us they looked slightly blue against the sun. We wondered around the main part of town for a few hours, stopping in shops along the way. I purchased a new backpack with better support straps from a outdoor/hiking store. All too soon we were back on the train heading back to Interlaken. When we reached Interlaken, we headed back to the hostel to picked up our luggage then made our way back to the train station for our train to Milan. We had to get off and change trains in Spiez.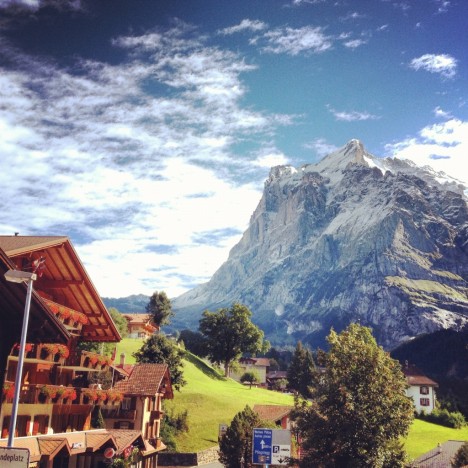 While walking down the platform toward our part of the train in Spiez, we stumbled upon a couple who we knew through mutual friends that had also gone to Cal Poly! It was such a nice shock to see familiar faces!! We spent some time chatting, discussing our travel plans with each other. Once the train arrived, we said our farewells, and hopped on our car. They were headed directly to Rome from Milan while we are staying in Milan for a few days. The train ride was long, but relaxing. Our first view of Italy was a beautiful lake with large islands in the center covered by old buildings. So very Italian! We arrived at the train station in Milan around 4pm. The station is a lovely building, modeled after Roman architecture. We walked about five blocks to our hotel and settled in for the night.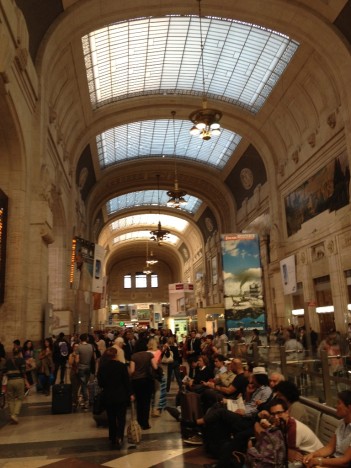 Saturday, September 15: We didn't do too much yesterday. We ventured out for some lunch as we had slept through breakfast, wandered back to the train station to purchase some SIM cards for our phones since we will be staying in Italy for awhile, and spent the afternoon searching for places to stay in Florence. We are looking to rent a flat… No luck so far. We skyped with a few friends and family, eating dinner from the local grocery store (MUCH cheaper, but still excellent food!).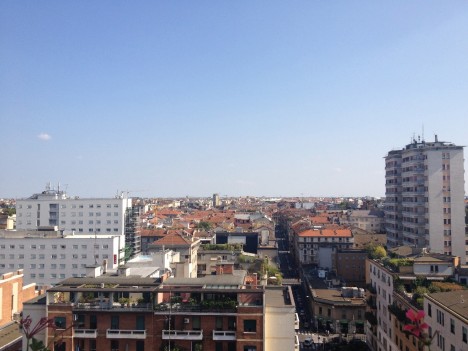 Sunday, September 16: Today we had breakfast in the hotel and went out for lunch later. It was really hard to find any restaurants that were open today as it's Sunday; everything is closed on Sunday. We spent a few ours on the 8th floor terrace, enjoying the view and relaxing (me reading, Ryder working). Venturing further out from our hotel for dinner, we discovered a busy main thoroughfare full of people shopping. Again, hardly any restaurants open, but we did find a pizzeria and gelateria! Yippee! Interestingly enough, the main street had crowded sidewalks and crowded streets, but instead of car congestion, it was bicycle congestion! Ryder and I couldn't believe all of the people biking for transportation! There were hardly any cars!! It was quite a wonderful sight to behold. We walked back to the hotel and are relaxing for the rest of the evening 🙂
Read More