Jul 23
For the first time in my life I saw fireflies. Check out this quick video I took of Amanda catching and releasing a firefly.
Link: http://www.youtube.com/watch?v=PjrMTXZJ6lE
Aside from seeing beautiful luminous bugs, for the past couple of days we've either been lounging around Liz & Dave's saltwater pool or trekking around Boston. Their pool is absolutely fabulous! I'll never have a regular chlorinated pool after feeling how great this pool is on your skin and eyes.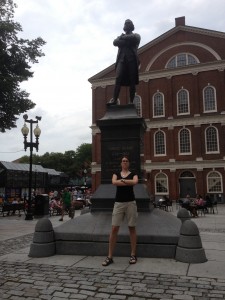 As you may have seen from the previous blog post, we did a Duck Tour this morning after taking the faster (and more expensive) commuter rail (purple line) into the city instead of the green line (which is a slower subway rail). The crowd on our duck tour was lame and didn't play along with the driver's antics very much. Amanda said she's been with better group/driver combinations where they had much more fun. With that said, it was still fun and we got to see quite a bit of Boston. Here's a photo of Amanda posing next to Samuel Adams –
After the Duck tour, we took the rail to the North End for some Italian lunch at Bella Vista. Interesting little place. The lasagna and chicken were decent but nothing to write home about. After that we did a little tour of Paul Revere's house and walked to the Granary Burying Ground to see where Sam Adams, Paul Revere, and John Hancock are buried. Then, a detour to see The Dark Knight Rises in IMAX near the Boston Commons, and a quick sprint to Georgetown Cupcakes (OMG AMAZING) and then the commuter rail back to Needham. Dave brought up a great point of getting a pedometer to see how far we walk each day so I may look around each place we go to see if we can find one. Most of the time today, we opted for the stairs instead of the escalator or walking a couple miles instead of using the rail system again. Gotta burn off all the local Boston & Portland Maine beer's we've (I've) been drinking 🙂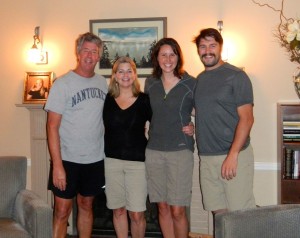 We said our goodbyes to Dave as he'll be working early in the AM and took a quick photo "for the blog" 🙂
Read More