Glass blowing & Gondolas
Oct 04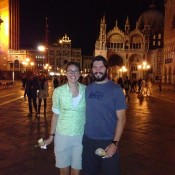 Today we woke up at around 9:30am and moseyed on down to the breakfast room for some cereal, eggs, and cappuccinos! The hotel has a tiny terrace off the breakfast seating area were we settled, sipping our cappuccinos and watching boats glide by on the canal below. Ryder wanted to venture off the main Venice island today to see glass blowing on the neighboring island, Murano. He went down to ask the concierge where we should go to catch a boat ride, and he told Ryder for us to be in the lobby at 11am.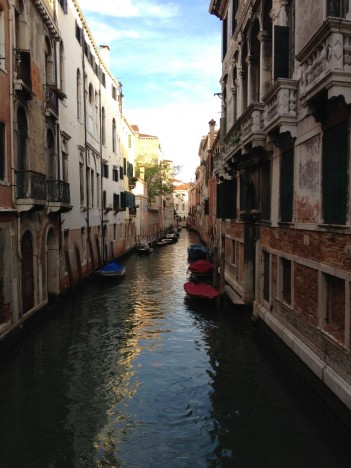 Ok, 11am and we are met by an Italian guy who tells us its a five minute walk to the boat. He asks us were we are from then assumes we are following him for the next 4.5 minutes. We reach our destination; a dock in a canal running next to a hospital where the ambulance boats park (Yep, that's right! Need an ambulance in Venice? It floats!). He says the boat will be here soon and then another Italian guy walks up who is introduced to us by Italian guy 1 as his "associate." Hmm ok. A few minutes later, a boat pulls up and Italian guy 1 helps us in then says "Ciao!" and walks off with Italian guy 2. Now we are alone in a strange boat with a mute driver (we'll call him Italian guy 3 just to be consistent) who backs up, heads out of the canal, and into open water outside of the Venice island. I have a momentary flash of, "Oh great, we are so getting sold into slavery," then I realize its Venice and it helped that the boat seemed to be headed directly towards the neighboring island. I know mom, I know, don't get into boats with strangers. I really wasn't that worried, I have Ryder to protect me 🙂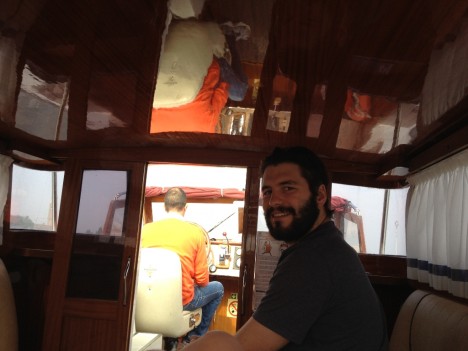 The boat ride out was pretty awesome. It looks as though the waterways are marked off by large pylons spaced every 10 feet or so, creating a sort of "boat freeway" between the islands. We passed a few private boats, taxis, shuttles in the distance, and an entire island turned into a cemetery. Finally, we pulled up along side the island of Murano. We were dropped off by Italian guy 3 at private dock a bit down the outside of the island.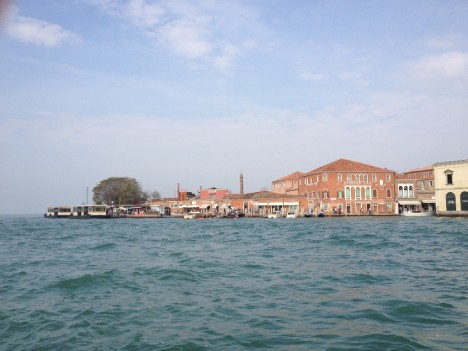 Another Italian guy (You guessed it, Italian guy 4) met us at the dock and ushered us into a glass blowing studio! Three men (who we found out later were brothers) were working together to create a glass chandelier; what this particular shop is known for. The glass blower (gaffer) used a long metal rod (about 4 feet) to pick up a portion of the liquid glass (called a gather), then would use gravity, rolling, and some blowing (parison) into the metal rod to get the desired shape (marvering). At one point, he used metal tongs to pinch the bottom of the hot glass, then twisted the rod to get a spiral effect. It was really neat to watch.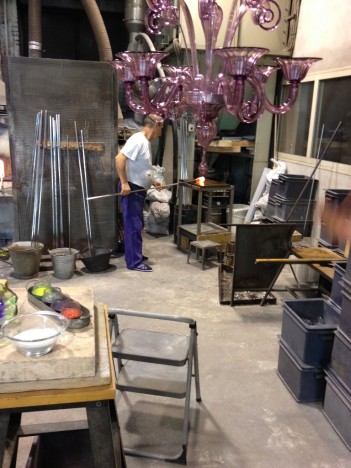 According to Boise State University, the art of glass blowing was discovered along the Phoenician coast in 20 B.C. This new technique changed the use of glass from jewelry and ornaments to necessities and is still done in basically the same way today. Constantinople provided the center of glass working after the decline of Rome, while Venice rose as the glass working center after the Dark Ages. Venetian glass was also known as cristallo because it resembled rock crystal. Today, the good stuff is dubbed Murano glass.
After an allocated number of minutes, a smartly dressed salesman lead us out of the studio and into a show room where we discovered 6 rooms full of plates, cups, bowls, vases, glasses, pieces of art, and anything else you can think of all made from glass! We walked around a bit then headed out into the heart of the island. After venturing into a few shops and purchasing some gifts, we ran into two gentlemen we had met on the train from Florence to Venice, Doug and Frazier from Victoria, Canada. It was so great to run into them again! We decided to have lunch together and had the best time! After a couple of hours we parted ways and headed back to the main island. We took the local transportation this time 🙂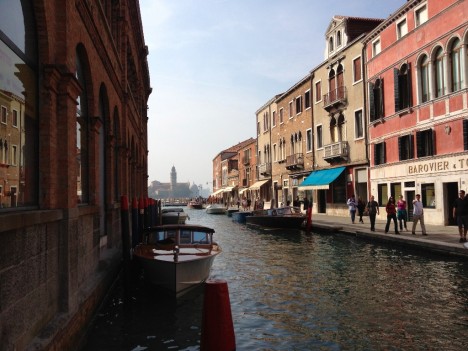 Back in Venice, and making our way back to our hotel, we stumbled across a shop selling Venetian masks. This is actually quite common in Venice, lots and LOTS of stores sells masks, but what was unique about this particular shop was we could see a woman in the window actually making one of the masks! Well, my artistic curiosity was piqued so we walked into the shop. The owner greeted us at the door, showing us the two different types of masks him and his wife (the woman working on the mask) make. They had a few ceramic masks, the rest were made by hand out of paper-màché from molds they had made themselves. The masks were then hand painted and decorated. Their shop was full of beautiful designs and unique masks. We purchased one, had some fun working with the owner to figure out packaging, then said goodbye, planning to meet up with him to go to the post office tomorrow to mail our mask and some other things.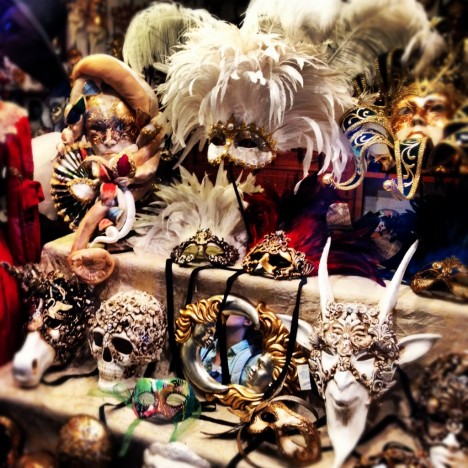 Back on the street, and again making our way back to our hotel, we were talked into a gondola ride by a very persistent gondola oarsman dude guy… what do we call him? Anyway, we got into the gondola and set off! It was quite a neat experience to see Venice from the canals. We drifted under bridges and around other gondolas, waving at fellow tourists who floated by. Our gondola oarsman dude guy was very talkative and in English with a smattering of Italian (maybe it was the other way around) pointed out the water marks along the canal where the water line had risen high enough to flood the first floor! After a bit of confusion we realized he was telling us that in November and December it is very common for the water level to rise higher than the first floor of most of the buildings in Venice during high tide, then wash back out during low tide. At almost every building he would say, "Lady, excuse, lady, lady look, see…" He also explained a bit about gondolas, showing us how the boat tips a bit to the right making it slice through the water and easier for him to maneuver. All in all, it was a very interesting and entertaining ride through the watery "streets" of Venice 🙂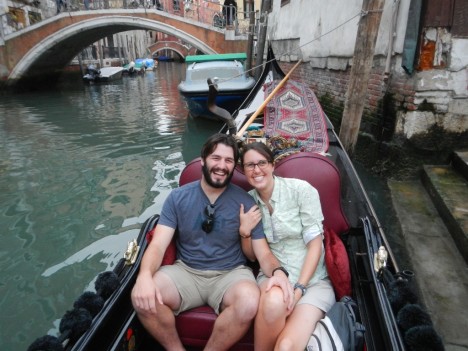 After the gondola, we FINALLY made it back to the hotel to drop off our purchases, then we headed back out into the city for dinner. We ate at a small corner restaurant, grabbed some gelato, and walked back to the Piazza San Marco to enjoy the live classical music wafting across the square played by three small orchestras set at intervals along the piazza. Tomorrow we leave magical Venice for Verona!
P.S. According to Wikipedia (cringe), a gondola dude is called a gondolier 🙂